By Gail Chandler Hawkins
The Minidoka National Historic Site held a soft opening for its new Visitor Center on July 7, 2019, on the same weekend as the annual Minidoka Pilgrimage.  Close to 500 attended, travelling from Idaho, Washington, Oregon, California, Utah, and as far away as Washington, D.C. 
The dedication ceremony was a culmination of decades of work to design and build a Visitor Center that would honor those incarcerated at Minidoka, educate the public, and inspire visitors to action.
Heartfelt stories were shared by Mia Russell, Executive Director of Friends of Minidoka; Yosh Nakagawa, Issei Memorial; Robert Hirai, Honorary Consul General of Japan in Idaho; Wade Vagias, Superintendent of Minidoka for the National Park Service, and Jim Azumano, Community Speaker.
About 20 attendees who had been incarcerated at Minidoka were given the special honor of cutting the ribbon.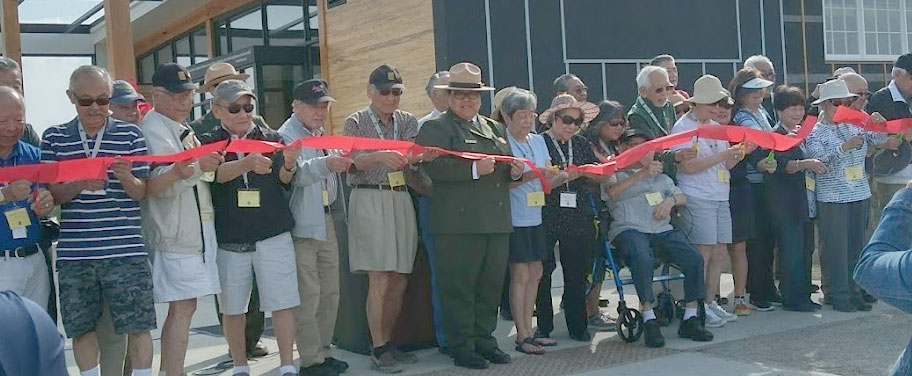 After the dedication ceremony, attendees went on tours of the Site.  They visited the old fire station, baseball field, barracks, mess hall, and root cellar.  Those who had actually lived at Minidoka during WWII described details of their experience, adding so much richness and depth of understanding for those who did not have that experience.
Additional work needs to be completed on the new Visitor Center before it can open to the general public, possibly in Fall 2019 or Spring 2020.  
In the meantime, the Visitor Contact Station at the Site is open various hours seasonally.  From late May through August, it is open Friday – Monday. You can get information, brochures, maps and the NPS passport stamp.  The grounds are open seven days a week from sunrise to sunset for self-guided tours on the 1.6 mile walking trail with outdoor exhibits telling the history of the site.  To schedule a guided tour of 10 or more people, please call Park Staff at 208-825-4169.
Friends of Minidoka:  https://www.minidoka.org/
National Park Service:  https://www.nps.gov/miin/index.htm
Minidoka Pilgrimage: http://www.minidokapilgrimage.org